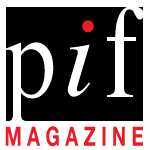 I am excited to publish a new poem in Pif Magazine, an online literary magazine that has featured fiction, poetry, and author interviews since 1995. My latest poem "Letter From a Dead Girl" is currently available in the Fall 2016 issue of the journal.
What Inspired This Poem: The Murder of Grace Brown
Grace Brown was a young garment factory worker who was murdered in the Adirondack region of upstate New York on July 11th, 1906. At the time she was having an affair with the nephew of the factory owner, a Chester Gillette, who took her away to the Adirondacks for reasons that are still debated to this day.
Grace drowned in a lake near Covewood Lodge on which the couple was rowing. Gillette claimed that she leapt into the water from the boat they were in. He was convicted of murder and executed on March 30, 1908.
The trial made national headlines and resulted in a morbid sensationalism that is still felt today, over 100 years later. The poem follows a long line of previous literary adaptations of the murder, including the inspiration for the fictional character Roberta Alden in the Theodore Dreiser novel, An American Tragedy.
Letter From a Dead Girl: Grace Brown Speaks From Beyond the Grave
Many historians point out that we will never know for certain what transpired during the murder of Grace Brown. Trials during this period of history were notoriously short on evidence and long on theatrics. During the trial, for instance, the District Attorney at the time presented Grace's unborn child in a specimen jar to the jury as "evidence" of Gillette's monstrous act. Most of the evidence against Gillette would now be considered circumstantial as there was no direct proof that he forcibly drowned Grace.
During my research for this poem, I also came upon a lot of superstition still held by people all over the country who strongly believe that Grace's ghost haunts the Adirondacks where she was killed. There are many reports of seeing her apparition in or around the lake where she drowned. There are even groups of people who gather every year to speak to her spirit so that she might move on.
You will see much of this research coloring the poem, which is written in Grace's voice, a voice I crafted based on several of her love letters to Gillette which I read in preparation for writing the poem. I tried to imagine what Grace would say approximately 18 months after her death as Gillette awaited execution. Would she despise him and find joy in his death? Or would she still hold a torch for a man that was most likely responsible for not only her death, but the death of their child?
Her letters depict a woman desperate to win the affections of a man she idolized. I tried to imagine that she had somehow matured in her non-corporeal state and now realizes that she was in love with a monster. Or was she?
Read the Full Poem
Online: http://www.pifmagazine.com/2016/09/letter-from-a-dead-girl/
Pssst… My First Chapbook of Poems